Aluminium Wholesale for range of applications
Aluminium cladding is a great option for your next project. It's strong, durable and will continue to perform year after year. If you are after quality aluminium cladding at a great wholesale price, you've found it here with Cladding Wholesale. We are proud to manufacture and supply quality aluminium cladding Brisbane wide for a range of applications.
New homes
Renovations
Cubby houses
Demountable structures
Commercial builds
Tiny homes
Sheds
And more!
Aluminium
Profiles – Weatherboard or Chamferboard (Woodgrain or Smooth)
Chamferboard Profile in SMOOTH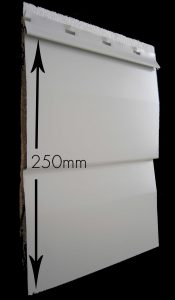 Aluminium cladding is a great solution which is not only aesthetically pleasing but is also long-lasting. We are leading suppliers who are based in Brisbane but who can deliver aluminium cladding Brisbane and Australia wide. If you're curious about what kind of rates and options are available to you with aluminium house cladding, then please get in touch.
Call us today on (07) 3252 8671 to speak to a Cladding Wholesale rep about any of your aluminium cladding needs.
Trusted Suppliers
We have been in the wholesale cladding industry for many years and we know what our customers want: a quality product that they can trust. We are a member of many building industry groups and are able to supply and distribute our aluminium cladding products to many interstate, national and international locations including Papua New Guinea, Asia, the Pacific Islands and New Zealand.
Our aluminium cladding is a versatile and durable solution for a range of building applications. Aluminium is a beneficial solution if you are looking for a modern, efficient and long-lasting material for your building and construction.
Top Quality Aluminium Cladding that You Can Trust
Your aluminium cladding is designed to last, and each of our products is manufactured to the highest standards.
Easy to install
The properties of aluminium are such that our cladding can be applied to exterior walls quickly and easily – it's lightweight and durable which means that it's easy to install on your home or building.
Strong and durable
Aluminium cladding is extremely strong, which means that it's possible to meet architectural performance standards while minimising the expenditure on foundations. Alloyed aluminium can be as strong as steel while only holding a third of the weight.
Corrosion resistant and protects against the elements
Insulation properties – aluminium can be four times as effective when compared to timber cladding
Cyclone suitable – for use in Australian Tropical Cyclone areas
100% recyclable – almost all of the aluminium used in construction is recycled which makes it better for the environment
Consistent Colours and a Range of Designs
At Cladding Wholesale, we have a range of aluminium cladding styles to suit your design needs. Our products are available in a weatherboard or chamferboard profile in either wood grain or smooth styles.
We also implement stringent colour standards to ensure that every aluminium cladding product matches the colours from every year before that.
Aluminium Cladding Colours
Yulumba
Bone While
Wild Oat
Alpine White
Benefits of Cladding
Eliminates painting costs forever
Easy to maintain
Rot proof
Non-conductor
Corrosion proof
Insulates to keep your house warmer in winter and cooler in summer
Fuel saver
Looks great
Moisture resistant
Termite proof
Unparalleled quality
Contact Cladding Wholesale for Aluminium Cladding Brisbane
Aluminium cladding is a great choice for your next build. Please don't hesitate to get in touch on (07) 3252 8671 or email us at info@claddingwholesale.com.au with any questions you may have.