Vinyl Cladding wholesale for your building makeovers
At Cladding Wholesale, we have a large cladding range, including Vinyl wall cladding, aluminium house cladding, vinyl cladding trims and aluminium cladding trims.
We are manufacturers of top quality vinyl cladding and would love to supply you with what you need for your next project.
We are leading suppliers based in Brisbane and we offer external wall board vinyl cladding Brisbane, QLD and Northern NSW.
Vinyl cladding is a long-lasting, durable and aesthetically pleasing solution to your external cladding needs.
We have been working with builders and manufacturers for many years so we know exactly what our customers want.
Call us today on (07) 3252 8671 to speak to a Cladding Wholesale representative about your project needs.
D5 Board Contessa for pure Elegance.
Trusted Manufacturer and Supplier
We are a member of several building industry groups and are positioned such that it's easy to get our products shipped to many local, national and international locations including Papua New Guinea, Asia, the Pacific Islands and New Zealand.
You can use our vinyl cladding solution for a range of applications including existing homes, new builds, demountable homes, tiny homes, cabins, granny flats and even a top-of-the-line cubby house.
If you are thinking of using vinyl cladding for your next project, please give us a call and speak to one of our experts about what we can do for you.
Wide Range of Colours
If you are looking for the perfect shade to match your home, then look no further.
At Cladding Wholesale, we are thorough when it comes to checking pigments and finishes for 100% consistency across every product.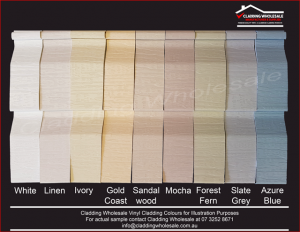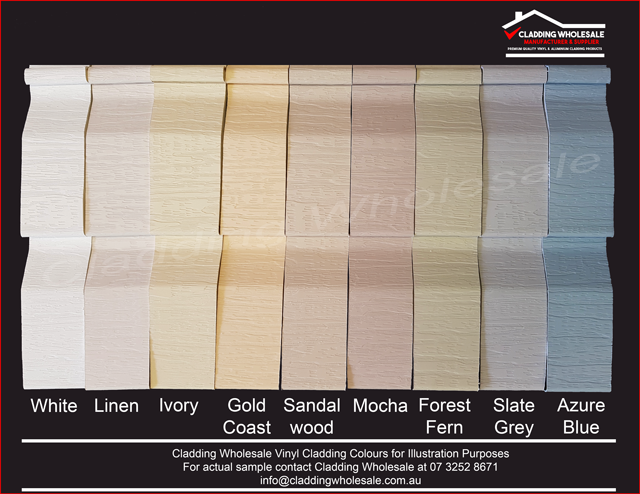 Vinyl Cladding Colours
White
Linen
Ivory
Gold Coast
Sandalwood
Mocha
Forest Fern
Slate Grey
Azure Blue
Quality Vinyl Cladding You can Trust
We are dedicated to bringing you a quality vinyl cladding product that you can trust no matter where you want to use it.
Whether you want quality materials for a new project that you are building or for a renovation, we can help.
Our factory is always working to produce new products, and we implement stringent quality control measures to ensure that all of our vinyl cladding is made to the highest of standards, every single time.
Vinyl Cladding for your Next Project
We stock D5 Colonial, Contessa, Avanti, Marquis and multi-rib vinyl cladding boards.
Contessa
Weatherboard profile
Length 3.66m
Coverage 0.933m2
Colonial
Chamferboard profile
Lengths 5.84m
Coverage 1.48m2
Avanti and Marquis
Available in a range of colours
Vertical coverage 200mm
Multi-rib
Ideal for use in eaves and ceilings
Benefits of Vinyl Cladding
Eliminates painting costs forever
Easy to maintain
Insulates keeping your house warmer in winter and cooler in summer
Fuel saver
Looks great
Moisture resistant
Termite proof
Rot proof
Non-conductor
Corrosion proof
Unparalleled quality
Vinyl Cladding Brisbane from Cladding Wholesale
For vinyl cladding that you can trust to perform for years to come, use Cladding Wholesale. Give us a call on (07) 3252 8671 or email us on info@claddingwholesale.com.au – we would love to help with your next job.